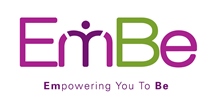 2023 Spring EmBe FIRST LEGO League Robotics Camps
EmBe (Empowering You to Be) - Sioux Falls
EmBe will not turn anyone away based upon their ability to pay. If you financial assistance, reach out to Jeremy Haugen jhaugen@embe.org before filling out the rest of the application.
As a participant in any of our camps your child will:
Design and/or build a model using LEGO® components
Learn to write and modify code
Explore challenges facing today's scientists and engineers
Discover real-world math and science
Begin developing teamwork skills
Morning camp is from 8:30 am until Noon. Afternoon camps are from 1:00 pm until 4:30 pm. Each student will receive a snack.
Explanations of the two camps:
FLL Explore Camps are intended to help boys and girls (Grades 1-3) to start exploring code and engineering. Participants build multiple LEGO models, program them, and play with the device.
FLL Mini-Robotics Camps are intended to help boys and girls (Grades 3-8) to gain experience with precise motor control. Participants will build one LEGO Driving robot, and program it to move with precision while accomplishing fun missions.
Note on ages:
In general, if your child is eligible for an older camp then that is the right choice. The option for older kids to attend a younger camp is provided for an older sibling to attend with a younger child, if you desire.
Event Details
---
Monday, February 6, 2023 thru Wednesday, March 29, 2023
Morning camp is from 8:30 am until Noon.
EmBe Downtown 300 W. 11th Street Sioux Falls, SD
Program Registration Fees (includes sales tax)
| | | |
| --- | --- | --- |
| FLL Explore Camp Afternoon February 20 | Grades 1-4 | Waiting List |
| FLL Explore Camp Morning February 20 | Grades 1-4 | Waiting List |
| FLL Explore Camp Morning February 6 | Grades 1-4 | Waiting List |
| FLL Explore Camp Morning January 16 | Grades 1-4 | Closed |
| FLL Explore Camp Morning March 10 | Grades 1-4 | Waiting List |
| FLL Explore Camp Morning February 21 | Grades 1-4 | Open |
| FLL Mini-Robotics Camp Afternoon February 6 | Grades 3-8 | Waiting List |
| FLL Mini-Robotics Camp Morning February 20 | Grades 3-8 | Waiting List |
| FLL Mini-Robotics Camp Morning March 10 | Grades 3-8 | Open |