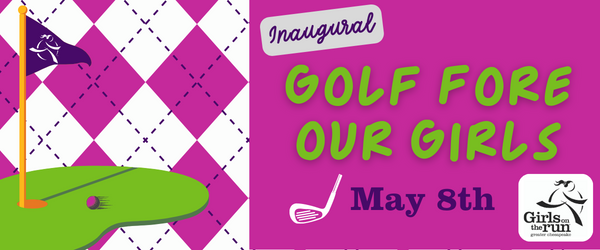 Golf Fore Our Girls Tournament 2023
Girls on the Run Greater Chesapeake
Girls on the Run of the Greater Chesapeake teaches girls in 3rd – 8th grades social, emotional, and physical well-being through a positive youth development curriculum. The 10-week program, offered in both fall and spring, includes life skills lessons, a community impact project, and culminates with a celebratory, community 5K event that offers girls a tangible sense of accomplishment through goal-setting. Girls build confidence, gain positive role models, and learn that they have limitless potential.
The "Golf Fore Our Girls" event will benefit Girls on the Run of the Greater Chesapeake girls.
The price per golfer is $160 (which supports 18 holes of golf, cart fees, a grilled lunch, on-course refreshments, and happy hour appetizers along with a partial scholarship for a girl to participate in the positive youth development program).
Each foursome is $640 and supports all of the above plus a full scholarship for a girl to participate. Opportunities to buy mulligans and move up a tee box will be available at check-in.
Event Schedule:
8:00 am - Check-in Begins

9:00 am - Shotgun Start (Scramble Captain's Choice)
All golfers receive a gift bag. Team Prizes will also be available.
Please register for the tournament by May 4, 2023.
Select your team leader in the drop-down menu and "add another participant" if you are also registering additional golfers in your foursome. You can join the GOTRGC team if you are registering and want to join a team.
Event Details
---
Monday, May 8, 2023
8:00am to 2:00pm (8:00am check-in; 9:00am tee time)
Crofton Country Club - 1691 Crofton Parkway, Crofton, MD 21114
Standard Registration
| | | |
| --- | --- | --- |
| Anne Arundel County Recreation & Parks | All Ages | Open |
| Anyone: GOTRGC #1 | All Ages | Open |
| Energetics Technology Center | All Ages | Waiting List |
| Leadership Anne Arundel Team #1 | All Ages | Open |
| Liff, Walsh & Simmons | All Ages | Open |
| RSM US | All Ages | Open |
| Team Lead: Alan Cook | All Ages | Open |
| Team Lead: Emma Wesoloski | All Ages | Open |
| Team Lead: Haddi Ogunsola | All Ages | Open |
| Team Lead: Jocelyn Wesson | All Ages | Open |
| Team Lead: Kevin Stoll | All Ages | Open |
| Team Lead: Larakay Skinner | All Ages | Open |
| Team Lead: Lily Orn | All Ages | Open |
| Team Lead: Lydia Tang | All Ages | Open |
| Team Lead: Mary Clare Coghlan | All Ages | Open |
| Team Lead: Rachel Stafford | All Ages | Open |
| Team Lead: Sadaf Raza | All Ages | Open |